Coal Posts

In my travels around the Orpington area, I've come across several Coal Posts (or more correctly 'Coal and Wine Tax Posts'), which date from the 1850's. These are often found in apparently obscure places today, but used to mark the places around London at which taxes were payable on goods coming into the city. These taxes were used to pay for bridges across the River Thames, street paving and new access roads into London.
In 1985, Bromley Council undertook a renovation program for the local posts, including setting upright posts that had become dislodged from their original positions. The posts were also cleaned and painted. All twenty three posts in the Bromley Borough are still in their original locations, though some are on private or railway land.
We have found and photographed all of the ones near Orpington; these are shown in anti-clockwise order around London. Thanks to Steve and others for braving the nettles and taking some of these photos.
191: Junction of Cudham Lane North and Old Hill (Map)

192: South End of Farnborough By-Pass, by Rose & Crown (Map)
193: West end of Green St Green High Street (Map)
This coal post has a nearby road named after it: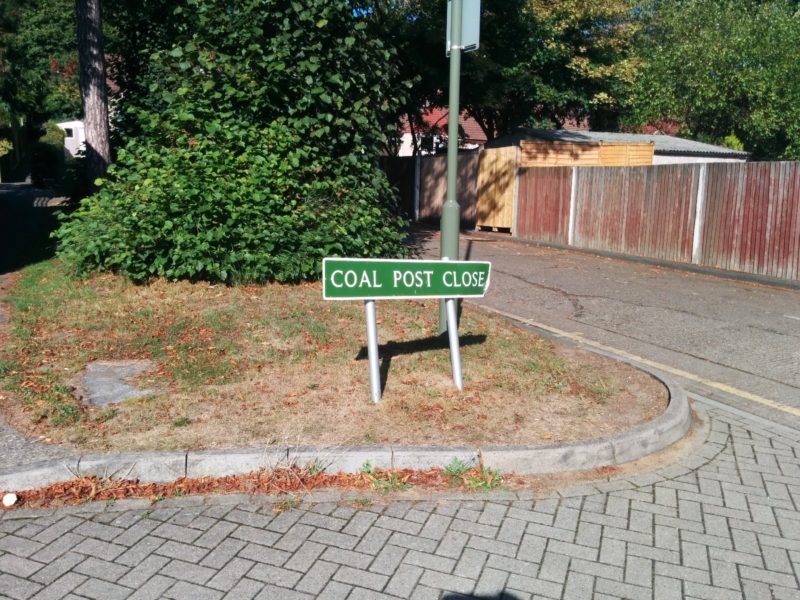 194: Junction of Green St Green High Street and Farnborough Hill (Map)


 195: Junction of Sevenoaks Road and Shire Lane, Green St Green (Map)
196: Front Garden of a house in Warren Road, Orpington (Map)
Jun-05 Update: It has been reported that this post has unfortunately now been removed.
Feb-06 Update: Good news; it's still there but a bit buried.
197: Next to the Railway line near Crown Close (Map)
Note that this is only visible from private property…
198: Goddington Lane, Orpington (Map)
199: Chelsfield Lane, Orpington (Map)
This photo from 2016 shows the post needing a coat of paint!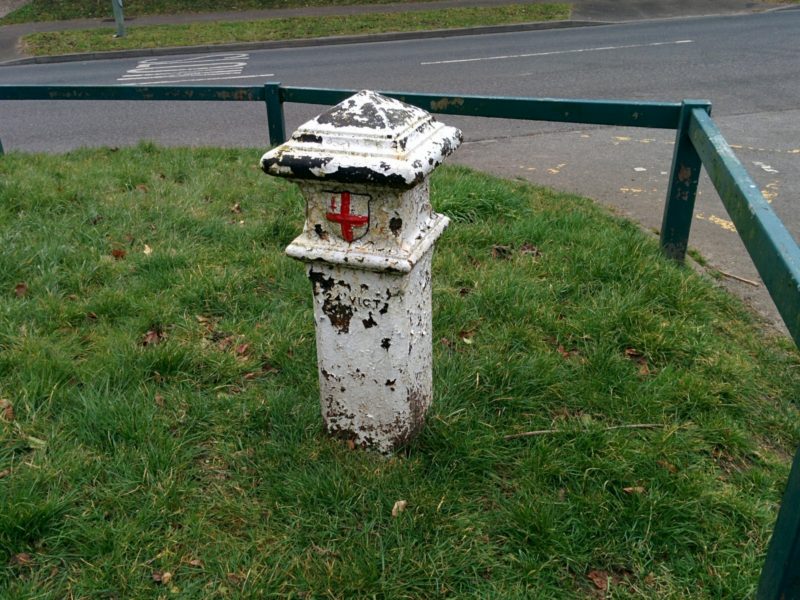 One post has a particularly clear makers plate at the bottom, showing
"Henry Grissell 1861, Regents Canal Iron Works, London"
More Coal posts
Coal Posts 176-190 ( West of Orpington)
Coal Posts 200-218 (East of Orpington)
Further Investigation
More information on Coal Posts at www.coaldutyposts.org.uk
I've produced a GPX file from this data, showing the location of all extent posts: Coal Posts GPX
For users of the Locus mapping app on Android devices, you can add custom icons showing the Coal Post type to your map by installing this file into the Locus icons folder: Coal Post Icons
Roger W. Haworth also has an excellent guide to Coal Posts, including some different photos of the ones in this area, at Coal and Wine Tax Posts
If anyone has any more information about coal posts, or even better, some pictures of other ones, please let me (Phil Wheeler) know via our Contact Page. Thanks!